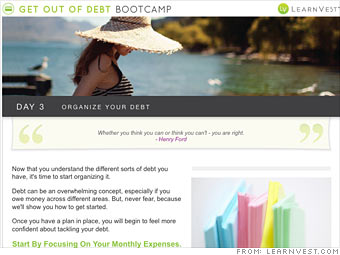 Tool: LearnVest
Ever consider signing up for one of those two-week fitness bootcamps? Well LearnVest has a plan to whip your finances into shape as well. Its free 15-day "debt bootcamp" offers a take-no-prisoners attitude toward getting rid of those flabby spending ways.
"There are two things that are really hard to lose: extra weight and credit card debt," said Alexa von Tobel, the CEO of LearnVest, a financial education site targeting women ages 20 to 60.
Once you sign up for a free bootcamp session, LearnVest collects your financial information, and takes you through a step-by-step program to pay off your debt. Day one, for example, includes coming to grips with the reason you are in debt -- was it too much spending? Losing a job?
On Day two, LearnVest lays out all of your debts and shows you which ones you should tackle first. It will also teach you about how to cut back your spending habits while you try to whittle away your debt. One tip: Make sure your refrigerator isn't unnecessarily cold. Keeping the temperature too low could cost you as much as $400 more a year in electricity.
The following days consist of creating a payment plan, making payments and checking your credit report and score. LearnVest has put more than 250,000 women through bootcamps this year. While they haven't yet compiled data showing how much debt the average user pays off, users check their LearnVest message accounts an average of two times per day to receive their daily bootcamp lessons.
If you have questions that aren't answered or are specific to your personal situation, you can sign up for unlimited access to a financial adviser through LearnVest. The drawback: you'll have to pay for it (it's $5 for one day, $39.99 for a 3-month subscription and $130 for a year), though LearnVest says this is less than the average $250 per hour you would pay an adviser elsewhere.