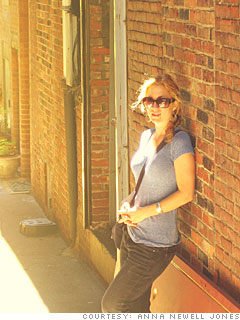 Her situation: "Every month I was spending at least $300, over-drafting my account and feeling horrible about it," Anna said in October 2010. Her total debt: $23,605.10.
Her strategy: Go on a spending fast for a year. Starting on January 1 2010, Anna stopped spending on everything but the absolute necessities -- like her mortgage, utilities, car payments. Ten months later, she had saved $5,772.25 -- $4,800 of which went to pay off credit card debt. The rest went toward her $10,000 in student loans and paying her parents the money she owed them.
Her advice: Get creative. To save money, Anna dyed her clothes to extend the color. She grew her hair long to avoid haircuts and she started making all sorts of crafts that she started selling on Etsy, including "zombie portraits of people, super cute baby onesies and banners, tags and shipping labels."
How she's doing now: By April 2011, 16 months after she started cutting back, Anna paid off all of her debt. In the first year, during her "spending fast, she paid off $17,911.89 in debt. For 2011, she loosened up the spending reins a little and embarked on a "spending diet," giving herself a $100 allowance for non-essential items.
"The spending fast literally freed me from my debt and now I can make choices based on my own best interests, rather than on the interests of those I owe money to," she said.