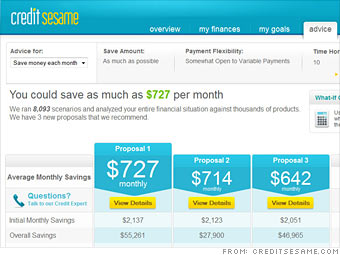 Tool: Credit Sesame
Give this tool a whirl and you may receive a message similar to this: "We evaluated your entire monthly debt obligations, and you could save as much as $840 a month."
While it may seem too good to be true -- or just too difficult to figure out how to start saving that kind of cash on your own -- Credit Sesame offers a money management plan that will help you do just that.
When you sign up, it analyzes your entire debt picture -- including mortgages, credit cards and other loans -- and gives you a free credit score from Experian (which is a VantageScore, not a FICO score), data about the value of your home and your debt-to-income ratio. It will also tell you if you're overpaying on any loans and how much money you could save per month and over your entire lifetime if you optimize your debt.
Credit Sesame does this by scraping thousands of loan options from major banks -- which it says represent about 80% of the lenders -- and pinpointing the three offers that would save you the most money over time. Your options are constantly updated to reflect any pricing changes in the credit market.
The best part: it's free. The banks partnering with Credit Sesame pay the company only after you are accepted for one of the loans it recommends and you close the deal.
One con worth noting: Only creditors willing to pay Credit Sesame show up on the site, so you won't be able to compare every single savings option available.