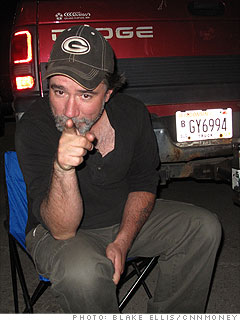 Home state: Wisconsin
I worked at a construction company in Wisconsin where I used to make really good money.
But when the economy went down the tubes, I only made $343 a week, and then we ran out of work altogether and I had to look for other jobs.
The only one I could find right away was at a Walmart in Minnesota, where I made $7.50 an hour.
I met Matt there, and he convinced me to move out here, so I'm living with him in this RV. Obviously I want to find my own place, but that's not gonna happen for a while.
Since I moved to Williston this year, I make around $16 an hour, and I get $24.15 an hour for overtime. I work in the Tire Lube Express of Walmart, where I fix flat tires, do oil changes, and those kinds of things. I came out here with a lot of debt, so the extra money really helps.
And I guess it's worth it to be living like this -- for the time being at least.
One nice thing about living in a parking lot is that you can change your neighbors whenever you want.