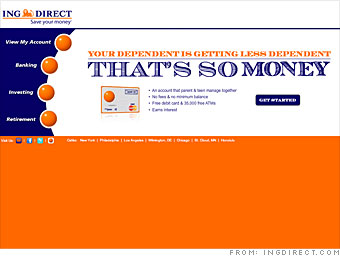 ING Direct's checking account, Electric Orange, currently yields 0.25% for balances under $50,000 and 1.1% and up for larger balances.

You won't be charged ATM fees, as long as you use one of the 35,000 Allpoint network ATMs. But if you go outside that network, the bank won't reimburse fees. So be sure to watch the icons on the ATM machine.

And while ING Direct doesn't give you paper checks for free, you can order a pack of 50 for $5, or fill out checks online and the bank will mail them for you for free.

The Internet bank also offers person-to-person payments through its site or mobile app. That means you can send anyone money, anytime, at any bank, as long as you have their account number.

Since Bank of America announced its $5 fee for debit card use earlier this month, ING has seen a 43% in checking account openings, according to a spokesman.

Correction: A previous version of this article incorrectly reported that ING does not issue paper checks.