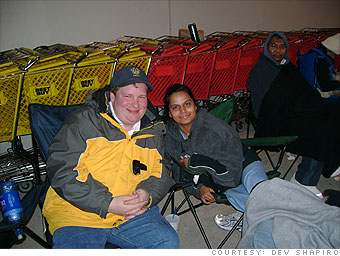 Age: 32
Location: Dallas
I usually head out Monday or Tuesday to line up at Best Buy. I'm out there for three or four days in advance. I'm always the first person in line. I have a tent, cooler, space heater and I rent a Porta-Potty. I also have a core group of 10 friends with me.
For our meals, we do a different theme every night: The first night, it's Vietnamese, second night it's Italian and Indian food another night. On Thursday, my parents will bring us turkey, mashed potatoes, green beans and pumpkin pie and we eat Thanksgiving dinner in the parking lot.
I've been doing this for about 10 years. For me, this is tradition; this is about getting away from my computer and getting some fresh air. I catch up with friends, I read books. I haven't done a traditional Thanksgiving since 1999.
My ultimate score:
About six years ago, I got a desktop computer with everything included for $149.99.
Secret strategy:
Knowing what's out there and what the retail price is normally. Just because it's Black Friday doesn't mean it's a good deal.