If you were dead set on earning a Harvard or Stanford MBA while working full time, you're out of luck. Neither school offers an executive MBA. But no need to worry, there are plenty of solid options. Here's Poets&Quants' list of the very best programs in the U.S.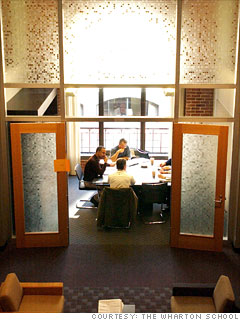 Index: 100
Tuition & Fees: $162,300
GMAT required?: Yes
Program length: Two years
The Wharton Executive MBA, which is offered in Philadelphia and San Francisco, is a two-year, residential program that brings students together on campus every other weekend, year round.
The first-year core curriculum combines fundamental management knowledge with courses in essential skills for senior-level management, such as leadership, ethics, and management communication. In the second year, students build on this foundation by choosing a subset of 25-30 elective courses from the school's offerings of nearly 200 electives.
Students also travel to cities worldwide to experience competitive strategies in global business. Recent destinations have included Madrid, Singapore, Beijing, Sao Paulo, Mumbai, and Moscow.
NEXT: Univ. of Chicago - Booth
Last updated March 01 2011: 10:19 AM ET
The new ranking by Poets&Quants, measures the overall reputation of these programs by combining the four latest ratings of EMBA programs from BusinessWeek, The Wall Street Journal, The Financial Times, and U.S. News & World Report. Each of the four ratings are weighted equally.