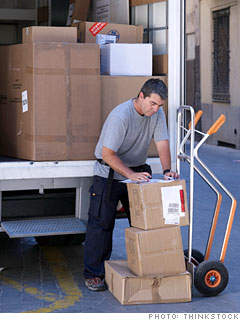 Fatality rate per 100,000 workers: 22
Median wage: $35,500
More truckers and delivery men, die on the job than any other vocation, according to the Bureau of Labor Statistics. Last year, there were 683 fatalities among this group.
More than 3 million people drive trucks for a living, whether it's delivering packages for UPS or driving long hauls across country.
The biggest safety challenge for the industry is that employers are cutting back on safety, according to Anthony Prince, an attorney with Teamsters Local 705 in Chicago. Sometimes, the equipment is not as well maintained as it should be; other times, drivers are pushed too hard.
"We've had instances where drivers are sent out in vehicles that are not roadworthy," he said. "In one case, a supervisor riding with a driver kept telling him to drive faster even though the driver didn't think it was safe."
With the promise of "same-day" and "overnight" deliveries, drivers are also under great time pressure and can work long hours, making fatigue a big factor in many accidents.
"We don't think people should die to get a package delivered," said Prince.