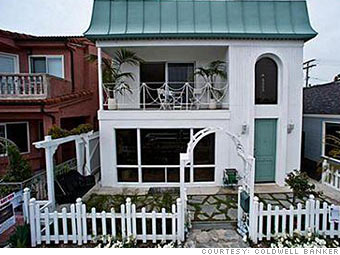 Average price in area: $2.537 million
This house: $2.195 million
Description: 5 beds, 2 baths and 2 half-baths; 3,000 square feet
Newport Beach
is one of the most popular recreational boating locations in California. That, and the warm climate, has helped attract one of the most affluent populations in the United States. Median household income is well over $100,000.
Coldwell Banker found the average listing price for a four-bedroom, two-bath home has nearly doubled over the past two years to more than $2.5 million.
This home occupies a tiny plot on Balboa Island, but it's on the Grand Canal with a private boat dock and access to the harbor and the nearby Pacific Ocean. Both the living room and master bedroom have canal views and there is a roof deck that allows you to watch the sun set over the ocean.
More information:
Coldwell Banker