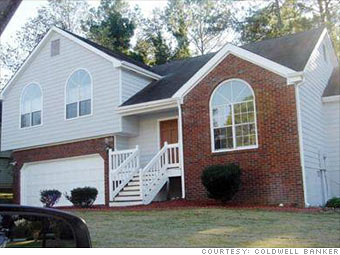 Average price in area: $77,385
This house: $98,900
Description: 4 beds, 2 baths; 2,004 square feet
Atlanta's
expansion has engulfed this one-time stone quarrying town in the hills of Georgia. Residents are now more likely to commute to office jobs in Atlanta (just 20 miles away) than cut granite nearby.
Clobbered by the recession, unemployment -- at 9.7% in April -- is above the national average and it hasn't budged over the past year. That has contributed to a spike in foreclosures. Atlanta has the 15th highest foreclosure rate in the nation among metro areas, according to RealtyTrac, the online marketplace of foreclosures.
In fact, this home was foreclosed on, bought by an investor and fixed up for resale. "It's been almost totally redone and is in move-in condition," said agent Phyllis Young.
It's a three-level home and includes a bedroom that could be converted into an in-law suite. Other features include vaulted ceilings and a two-car garage.
More information:
Coldwell Banker