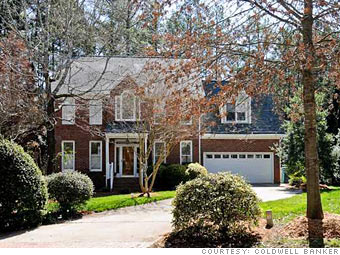 Average price in area: $382,432
This house: $369,500
Description: 4 beds, 2 baths; 2,875 square-feet
The presence of three big universities nearby (and many other schools), as well as the cultural and artistic events they bring to the area, is enough to lure home buyers to the Chapel Hill area, which was number 40 on
MONEY magazine's list of Best Places to Live
this year.
However, the area also boasts an abundance of high-paying tech jobs. The Research Triangle, which includes Raleigh and Durham, is known for its concentration of high-tech companies, including outposts for
IBM
and
Cisco Systems.
This contemporary-home has generously-sized rooms and is in a very neighborly community, according to Coldwell Banker Realtor, Gary Saleeby.
At 2,875 square-feet, this home is larger than most of the other homes on Coldwell Bankers' list. As an added bonus: the property backs up to wooded, Army Corps of Engineers land that will remain undeveloped.
More information:
Coldwell Banker