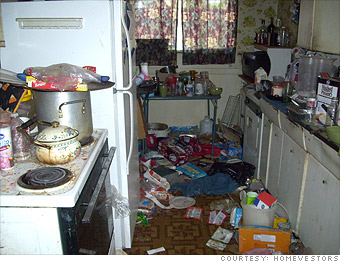 One way to make money in residential real estate: Buy the worst house in the best neighborhood you can afford -- and then fix it up.
HomeVestors
, which buys beat-up homes and resells them, is trying to find the ugliest of them all in its annual contest, which ends later this month.
Many of this year's Ugliest Home candidates don't look too unsightly from the outside, but a quick peek behind closed doors reveals some truly horrible conditions.
Buyers shouldn't be too deterred by the chewed-up kitchen cabinets or flood-damaged floors, however. Buying a beat-up property can be a lot cheaper than buying one in A-one condition -- as long as the damage isn't too extensive.
Of course, it's prudent to get an accurate estimate of what repair and renovations will cost before taking the plunge. The cost of fixing a cracked foundation or bad plumbing can wipe out any benefit of buying the fixer-upper on the block.
Here are six candidates in the running for HomeVestors' Ugliest Home in America contest. Almost all of these homes have been bought by HomeVestors franchisees or clients and renovated. Where possible we've included before and after shots to illustrate that there truly is life after ugliness.