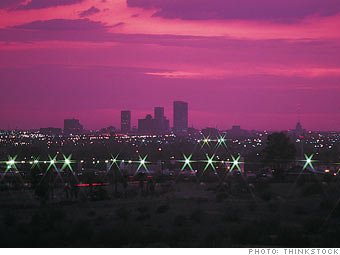 Average home price (2011): $155,600
Projected home price (2014): $148,200
Gross rent (2011): $834
Projected gross rent (2014): $936
Phoenix was the poster child for the housing bubble: Speculation sent home prices soaring by annual double-digit increases for three years until the bubble popped in 2007 and they have fallen more than 47% since.
Foreclosures have been a big problem here and many people who lost their homes are now renting. As a result, rents are on the rise. Local Market Monitor estimates rents will increase by more than $100 a month over the next three years.
The two biggest positives for
those looking to invest in rental properties in Phoenix
, according to Winzer, are that the job market is growing again and people are still moving to town. In fact, the population has grown by 8% since 2006.
He expects rental investments to pay 2.3% bigger return in the Phoenix metro area than the national average.