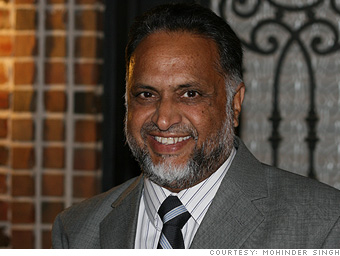 Where they're buying: Dallas suburbs
Number of properties: 16
Mo Singh has been on a buying binge. In the past six months, he's bought six properties -- almost all of them foreclosed homes in and around the Dallas suburbs of Sunnyvale and North Mesquite.
Buying all in one general area minimizes the running around his duties as a landlord require. Plus, there are plenty of bargains to be found in these communities.
"Home prices have been very good there. I have no complaints," he said.
Singh recently paid $47,500 for a 1,100-square-foot, two-bedroom town home in foreclosure, almost half the original list price of $89,000. Singh put in $5,500 worth of upgrades, repairs and fresh paint and plans to rent it for $900 a month.
Finding good tenants hasn't been a problem so far and Singh believes he can easily make a 10% or more return on the place.
For now, real estate investing is a side business. But it won't be when Singh retires soon from his day job as an engineer at truck manufacturing company, Peterbilt.
At that point: "I'll go full-time into this thing," said Singh.