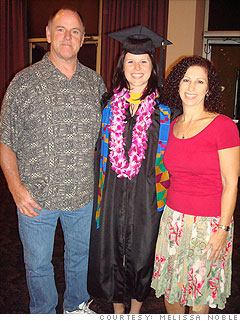 Name: Melissa Noble
Hometown: Long Beach, Calif.
Melissa Noble was barely out of graduate school and working as a social worker for Los Angeles County when her folks sat her down, broke down all of the numbers and showed her that it really would be possible to purchase her own home.
"Buying my own home was completely my parents' idea," said Melissa Noble, 28, who had been renting an apartment in Long Beach at the time. "Of course I always envisioned this for my future but never thought it would be possible at this age."
Her mom Shari, a loan officer, was financially savvy and both parents knew a lot about home buying, property taxes and the like.
"Once I could see this idea laid out in writing for me, I realized that this might be a good idea after all," she said.
Melissa was able to find a two-bedroom in a nice part of Long Beach for $199,900. It needed some work, according to her Coldwell Banker real estate agent, Jim Crotwell, but her dad was glad to help out with that.
What really made it possible was that they provided a big share of the down payment, which Melissa intends to repay. The experience has brought the family closer together.
"I feel like this process has made our relationship stronger," she said. "I have always appreciated my parents but the way that they helped me through this and supported me every step of the way, just gave me an even greater appreciation for them. I love my parents and couldn't have done this without them!"