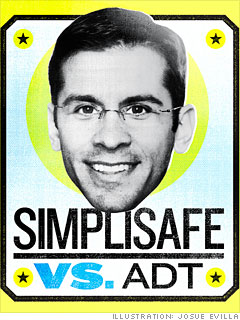 The challenge:
Convince consumers that wireless security systems are as good as the old-school options.
What they did: With so many folks moving around these days, SimpliSafe, based in Cambridge, Mass. offers a security system customers can easily install themselves and take with them to their next home. That's because the battery-powered system, which uses wireless devices affixed to walls near doors and windows, doesn't require complicated installation, and it works with cellphones -- no landline needed. CEO Chad Laurens designed the product, manufactures it, and sells it via the web, keeping pricing competitive: $300-plus for the system and $15 monthly for service, minus the contract and added fees that bigger companies typically tack on. Even without fancy marketing, word is spreading: Laurens expects sales to rise to $15 million this year, up from the low-single-digit millions in 2010.
Editor's note: An earlier version of this story incorrectly reported that ADT does not serve apartment dwellers. They do offer products for renters, including a wireless system that is comparable in price to SimpliSafe's. However ADT's product requires a three-year contract and installation by a professional.