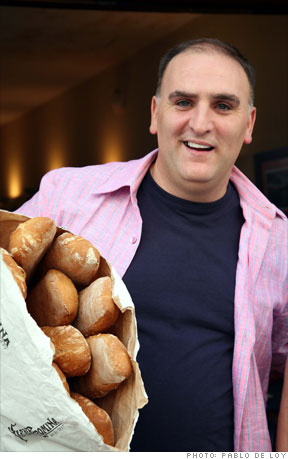 Named Outstanding Chef at the James Beard Foundation's annual awards ceremony this year, Jose Andres, 42, is also a successful entrepreneur.

Andres came to America from Spain at the age of 21 with only $50 and his cooking knives. He is credited with bringing the small plates dining concept to America.
His company, ThinkFoodGroup, owns a number of successful restaurants including Cafe, Atlantico, Jaleo, Zaytinya, Oyamel, China Poblano, the Bazaar by Jose Andres, minibar by Jose Andres and the soon-to-open America Eats Tavern in Washington, D.C.
In the past four years, ThinkFoodGroup has doubled in size, and now boasts over 800 employees and $75 million in revenue.
The host and executive producer of the PBS series ''Made in Spain,'' Andres has authored several cookbooks, and launched the nonprofit, World Central Kitchen, which aims to feed and empower vulnerable populations in humanitarian crises around the world.
''When I look at my wife, three daughters and my close friends, those are my real successes,'' said Andres.