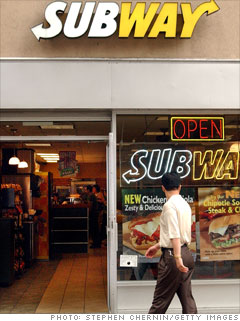 Loan failure rate: 4.7%
Number of loans: 894
Number of failed loans: 42
Subway, which sells mostly submarine sandwiches and salads, has 34,679 stores in 98 countries across the globe.

The restaurant, which has an ''Eat Fresh'' slogan, says its food is a healthy alternative to other fast food.
The submarine sandwich empire started as a single shop in Bridgeport, Conn., in August 1965. Fred DeLuca was looking for a way to help pay for his medical education. His family friend Dr. Peter Buck loaned DeLuca $1,000 to start his business. Subway was the result.
The business partners wanted to open 32 stores in 10 years, but by 1974, they only had 16. That was what prompted them to start franchising.
The popular franchise has a relatively low franchise fee of $15,000. Startup costs for a moderate restaurant are $187,250.
Between 2005 and 2010, 42 of the 894 SBA-backed loans failed.