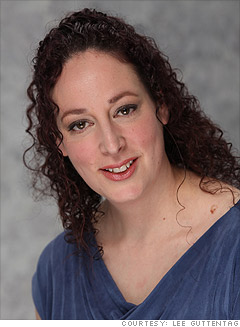 Entrepreneur: Lee Guttentag
Business: Glass Remembrance
Location: Pataskala, Ohio
Website: www.glassremembrance.com
Lee Guttentag's pilot training kicked in as she watched the plane approach her 80th floor office in the North Tower. "Even a plane in distress wouldn't be in that airspace," she said. "I knew it was an intentional attack."
She made it downstairs and was led to the escalators between the buildings before the tower fell, burying her. A firefighter dug her out, telling her to start running and not look back. She took that advice, literally.
Guttentag bought a "9/11 puppy, Dozer," gave up her high-priced Wall Street programming career, moved to Ohio with vague notions of a career in art therapy and studied glass-blowing.
When Dozer died, she encased his cremated remains in a glass sculpture. Word spread and Guttentag's business, Glass Remembrance, expanded to sculptures and even jewelry containing human "cremains."
Sold online and at 150 funeral homes, her business is on track to double this year. "The WTC tragedy taught me that everyone's story -- no matter how heartbreaking -- is important," she said. "It is very fulfilling to help people remember and keep their loved ones close."