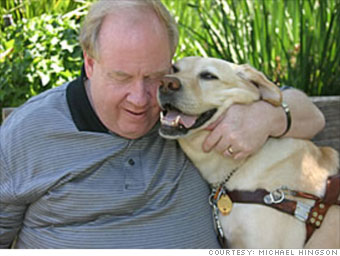 Entrepreneur: Michael Hingson
Business: The Michael Hingson Group, Inc.
Location: Novato, Calif.
Website: www.michaelhingson.com
For a dog who was afraid of thunder, Roselle the guide dog did her job calmly through the ear-splitting noise and crashing debris that engulfed the 78th floor of the North Tower. Her owner, Michael Hingson, blind since birth, smelled jet fuel. Yet he trusted that his dog would not lead him into danger.
Unsure if Roselle could hear him or see hand signals through the smoke, Hingson gave the command "Forward." Stopping only for dog kisses to calm a panicked woman, the canine-human team led a group of people down more than 1,463 steps to safety.
Hingson wrote a book on his experience entitled, "Thunder Dog: The True Story of a Blind Man, His Guide Dog, and the Triumph of Trust at Ground Zero".
He is also a distributor for the knfb Mobile Reader. The reader is a device that takes a photo of the printed page and reads it aloud. He is also a national speaker on teamwork and trust. The September 11 attacks reinforced Hingson's belief that, "we are all stronger if we find common ground and learn to stand together. Then we can accomplish anything."