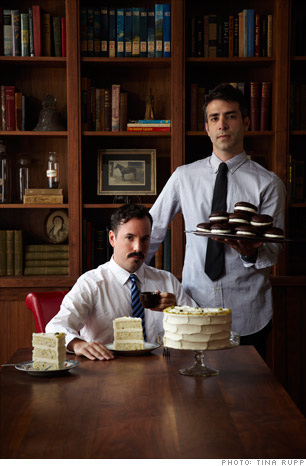 Matt Lewis
Co-owner of Baked, a bakery in Brooklyn, N.Y.
I used to do a lot of the baking and now my partner and I have moved to other aspects of the business. We have stepped out of the kitchen. It is nice to see the business is growing. We started in 2005. We have 20 employees, pretty much full time at this point.
We have a cobranded line of mixes with Williams-Sonoma: brownie mixes, a Bundt cake coming out, and a whole line of breakfast treats. We had this urge to move on and away from the cupcake to prove that American baking is more than just about the cupcake.
We have been hiring more people. It has been a slow, steady climb. We will hire when the need arises. So far, we have never had to let anyone go ever since we opened, actually.
I would like to hear that President Obama is going to continue to back small business owners. There are ways to encourage growth. The number one thing is making credit easy to get. At the moment it is so difficult. It is almost comical. They need to figure out how to extend credit to small business without it being such a hassle.
We actually did go through the process in the very, very beginning of trying to secure startup money. The paperwork required a lawyer and an accountant. The SBA loans are beyond complicated: It is so much paperwork -- so much of a hassle that I could see a lot of people not applying because it is so labor intensive. It is not worth it in the end. It is almost worth it to go outside the SBA. -- C.C.

As told to Catherine Clifford and Parija Kavilanz - Last updated September 07 2011: 11:07 AM ET