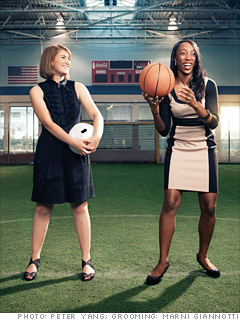 Name: Jessica O. Matthews and Julia Silverman
Age: 23
Julia Silverman, co-founder of Uncharted Play, is stumped. I've just asked her to share the best advice she's ever received, and the entrepreneur responds with a long pause. Finally she says: "Honestly, the first thing that came to mind was, `Don't tweeze above your eyebrows. Thanks mom!'"
An offbeat, fun answer is exactly what you might expect from the founder of a company that aims to turn playthings like soccer balls into sources of energy.
Uncharted Play got its start at Harvard University, where Silverman and co-founder Jessica Matthews were students in a course called "Idea Translation Lab." The girls -- and two of their classmates -- struggled to pass the class. (At one point Matthews turned to Silverman and the two other students and stated, "No, you are not messing with my GPA.") Their solution was the sOccket ball, a soccer ball that doubles as a portable generator. Inspired by their travels -- all four had spent time in developing countries -- they hoped to create a means to help those without electricity. "It's high school physics, really," Matthews says.
After graduating from Harvard in 2010, Matthews and Silverman took on full-time jobs but both recently quit to work on the sOccket Ball, the first of the products they plan to distribute through Uncharted Play. Matthews serves as CEO of the company, and Silverman is Chief Social Officer.
Their initial idea has captured the attention of big names like former President Bill Clinton. After Matthews presented the sOccket Ball at the Clinton Global Initiative University in April 2011, Clinton exclaimed, "If ever there was an innovator, she's it." He also asked Matthews to participate on a "Designing for Humanity" panel at the Clinton Global Initiative annual meeting this September. And, earlier this month, she could be seen at President Barack Obama's side as he signed the America Invents Act.
Over the past year, the two women hired a team of engineers to continually improve the ball. It's now un-deflatable and able to power LED lamps, water purifiers, mini-fridges, and emergency cell phone chargers. They launched the new ball on September 22. Working with State Farm and Latin alternative music group Huecco, Uncharted Play will distribute at least 2500 balls to communities in Mexico, El Salvador, and Costa Rica before the end of the year. They're also being sent to Nigeria and Haiti.
To make sure customers are properly trained on how to use the sOccket Ball, Matthews and Silverman partner with local organizations in the communities, ranging from NGOs to soccer teams. They've formulated a business model that allows them to help others, but also keep Uncharted Play afloat. The company's 2012 projected revenue is $2 million. Next up: A basketball prototype based on the sOccket (hoping to appeal to more Americans) and the construction of a manufacturing factory in Nigeria.
"Innovation is what we're really hoping to use [Uncharted Play] as a platform for," Silverman emphasizes. "It's about dreaming and thinking about your community and how you can better it through innovation." Budding entrepreneurs take note: That's some good advice.