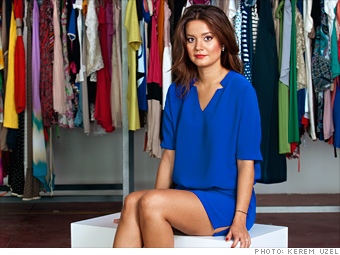 Name: Demet Mutlu
Age: 30
Demet Mutlu takes multitasking to new heights. Mutlu, 30, is an investor in Doktorsitesi.com, a Turkish medical portal with one million members, and Peak Games, a social gaming company in Turkey and the Middle East with 15 million active users. She's also the founder of Trendyol, a thriving 19-month-old Turkish e-commerce company that itself is an exercise in multitasking: In addition to an online store that attracts 12 million visitors a month, the company operates a fast-fashion clothing line called Milla.
Her juggling act appears to be paying off: Trendyol has raised more than $50 million in capital from investors like Tiger Global and Kleiner Perkins -- the firm's first investment in Turkey.
Still, Mutlu manages to find time to answer customers' emails, part of an overall effort by Trendyol to stay connected with consumers--a practice that not only helps ensure repeat business but also helps the company forecast demand. Here's how: Mutlu and her team post designs by Milla, the website's fashion line, on their Facebook fan page and on Trendyol's website. Customers can then vote on their favorite designs and the winners are the items that appear in the Milla collection each month. This type of concept is great for production, because it's based entirely on demand, says Mutlu.
For Mutlu, who started Trendyol while still at Harvard Business School and left the MBA program to work on the company full time, Trendyol is a labor of love. "When I talk about Trendyol, my employees say they see the spark in my eye. That's really why they accepted the offer [to work here]. They see that excitement and passion and they want to join the company," she says.
Born in New York, Mutlu was raised in the states, the UK, and Turkey -- and went to high school in Italy. She believes experiencing these varying cultures has benefited her in business. "In entrepreneurship, you have to have the right ingredients," says Mutlu. "I've built my finance skills, I've built my ability to raise funding from VCs, my ability to understand consumers, my ability to manage people, the ability to write a business plan, the ability to understand operations, to build a supply chain." Since businesses that scale fast are rather complicated, all these skills come into play. "Though our business looks glamorous from the outside, it's really, really difficult."
That isn't going to stop Mutlu from moving ahead with plans to expand internationally--a big challenge, but from the looks of it, nothing a globetrotting multitasker like Mutlu can't handle.