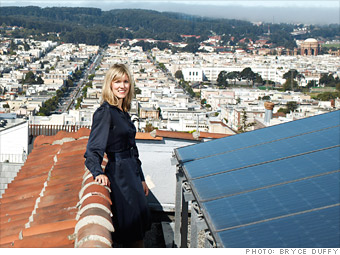 Name: Lynn Jurich
Age: 32
Lynn Jurich doesn't regret her time as an associate at Silicon Valley venture capital firm Summit Partners. It was there, after all, that she met Brad Murray, a fellow Summit employee she married in 2007. And it was while vetting startups at Summit that she realized she had the creativity, intelligence, and risk threshold to be an entrepreneur herself. "Hey, they're not any better than I am."
With an entrepreneurial spirit but no specific plan, Jurich left Summit and began at Stanford Business School in 2005. While there, classmate Ed Fenster approached her with a new idea. He noticed that solar energy was finally getting cost competitive and suggested the two create a business model solution.
They researched around and came across a `solar as a service' business model that commercial office buildings used: Solar developers built panels on the roofs of office towers, and signed the building owners to long-term maintenance and power-supply contracts.
Jurich and Fenster adapted this business model for the consumer market. They put in some of their own money, raised about $3 million in angel investments, and began developing SunRun as second year business students. "We would have to skip class and take meetings. It was one of those stories where we barely graduated because we were working fulltime," recalls Jurich. In 2007, SunRun launched its first solar financing plan.
In the fall of 2008, as Wall Street took a dive for the worse, Jurich was sure her company -- still in its infancy -- would, too. Yet that November, SunRun closed its first fund with U.S. Bank, who gave the company $40 million. In the past four years, Jurich and Fenster have raised financing for $750 million in solar systems, plus $85 million in venture capital. The company will more than double this year in terms of revenue and customers. SunRun currently installs about $365 million worth of equipment per year; Jurich hopes to install $1 billion dollars worth of solar equipment per year in the near future.
Customers sign 20-year agreements with SunRun. The service is only available in nine states right now. In order to make switching to solar as easy as switching from one utility to another, Jurich and her team have to make sure solar power is competitive in the specified area. Customers then pay SunRun a low monthly fee for solar power, which is typically less or even with what they're paying the normal utility company, according to Jurich. They're then locked into that price for the next 20 years.
Though always business oriented -- she wrote an essay in 3rd grade about how Christmas helped retail sales -- Jurich credits her husband with helping her get SunRun off the ground. The two had been married for less than a year when Jurich founded SunRun. "We said, `Why don't we approach our marriage like a portfolio? One of us will go really high risk and one of us will go safe," she explains. Murray went into private equity so that his wife could start her own company.
Now that SunRun is stable and successful, Jurich's husband is launching his own venture called Tatcha -- a skincare line. "We're kind of a gender role reversal in terms of industry," laughs Jurich. His support was essential -- especially when many of her classmates scoffed at she and Fenster's business idea. "But here we are today, with very few competitors after four years."