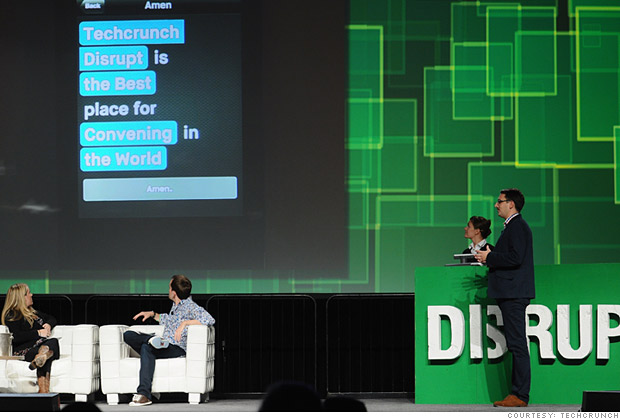 Founded: May 2011
Based: Berlin
Funding raised: $2 million
Mission: Improve the world through y/n statements.
Amen is the app for strong opinions.
"It's the best and worst of everything," co-founder Felix Petersen said.
Built by Petersen, who sold his last company to Nokia; Caitlin Winner; and Florian Weber, one of Twitter's first engineers, the app allows people to post polarizing views. Other users can then either agree or disagree.
Here's how it works: Users open the app and are prompted to pick a person, place, or thing and say whether their choice is the "best" or "worst." People can agree by pressing "amen," or they can opt for "hell no" -- but if they do that, they must provide an alternative opinion. For example , a user could say Starbucks is the best coffee. You can support the answer by pressing "amen," or offer up another coffee shop you think is better
Petersen says the service can gather valuable intel by winnowing down vast data pools.
"Increasingly it becomes something that is a source of reference and information," he said. "We are at some point are definitely getting into the field of discovery of relevant places."
The service, now in closed beta, has gathered 30,000 opinions in the last month. Testers have offered up opinions on topics ranging from TV shows to restaurants. "It's really like a conversation," Petersen said. "What comes out of it is a real utility."