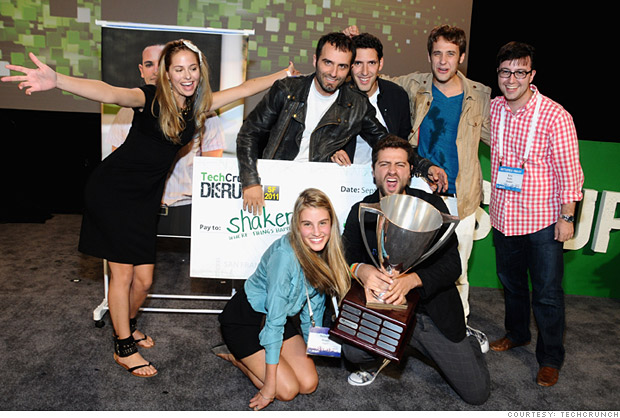 Headquarters: New York
Founded: 2011
Funding raised: $3 million
Mission: A virtual work built on top of Facebook
Log on to Shaker -- the grand prize winner from this year's TechCrunch Disrupt "startup battlefield" -- and you'll find yourself in room full of Facebook members represented by avatars.
"In real life when you go out you see your friends, you see your friends of friends, and they introduce you to people. And this happens on Shaker," co-founder Gad Maor said. "It's like real life. It's another way to do Facebook."
When you log in to the service, users pick a room and can see if anyone in their Facebook network is there. You can buy people "virtual drinks" and start up chats with other people in the vicinity.
Users can see what they have in common they have with other people in the room. The virtual space includes a wall of "likes" featuring the different Facebook likes of the people currently hanging around. The site is now in closed beta.
But Shaker's win was highly controversial. Skeptics dismissed it as a warmed-over Second Life, the much-buzzed-about virtual realm that never caught on beyond a small cult audience.
The founders insist their app is different. Featuring users as they are in the "real" world, according to their Facebook profiles, rather than through another identity built specifically for a virtual world is a major step forward in attracting players, they said.
Some judges agreed.
"It reminds me of a casual version of Second Life, except it solves two problems Second Life had. One is getting users," said CBS Interactive president Jim Lanzone. "People go into Second Life for the first time and spend a half hour trying to figure it out."