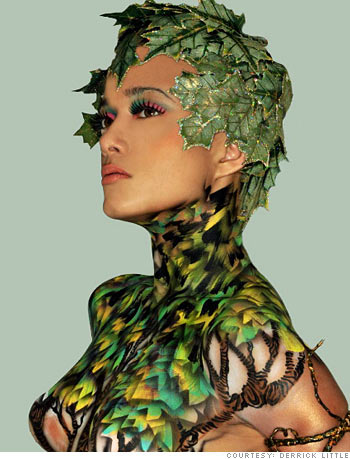 Owner: Derrick Little
Location: New York, N.Y.
If you find costumes confining, you can strip down to your undies and still be incognito. Derrick Little creates costumes with body paint.
Favorites for women include painted lingerie and comic characters Mystique and Poison Ivy. The Hulk character is popular among men. In a five- or six- hour session, he can turn an entire body into living art that doesn't appear to be scantily clad at all. The FDA-approved, water-based body makeup lasts from four to six hours, giving plenty of time for holiday revelry.
A full body painting session starts at $750. Wondering who buys this costume with such a short half-life? "All types of people with all types of bodies get this done. I think it's because it's a lot of fun and quite liberating as well," said Little. Corporate events that use models are lucrative as well.
This year, his business has seen an increase in demand for both his adult body painting and children's face painting. Based in New York City, Halloween is Derrick's busiest season. The holiday is "a celebration that's a big deal in this city," he said. "People go all out. I start booking appointments as early as May."