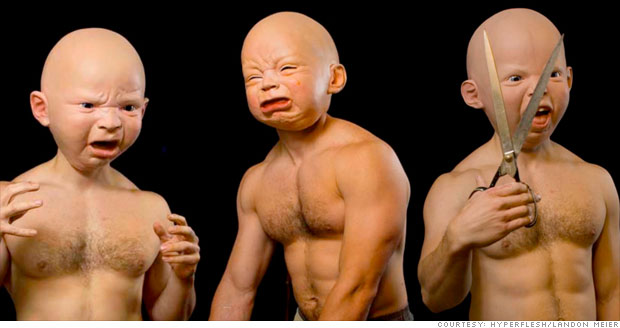 Owner: Landon Meier
Location: Denver
Landon Meier's disturbing yet artfully accurate oversized baby head needs only a diaper and a lot of courage to make an unforgettable Halloween costume. In the last year, Landon's sales have increased substantially, and he's working hard to meet the demand. From 25 orders a month to 25 orders a week, he's now looking to hire additional help.
What started out as a hobby for this visual artist has turned into a full-time business in the last year. Some clients who buy the pricey masks like to enter Halloween costume competitions, said Meier. "This mask will get you more attention than you ever had in your life. You feel like a celebrity," he added.
Landon plans to expand Hyperflesh to meet the Halloween demand for the baby head mask. He is also designing other oversized masks, including a Charlie Sheen head. He sent it to the star, who thanked him with a ticket to his recent Comedy Central roast.
Despite the economy, Landon believes that people "find the mask unique and surreal enough to want to invest" in what is a collectible item. Individually handcrafted by Meier, each signed and numbered head is made from high quality latex and is padded for comfort. Diaper not included.