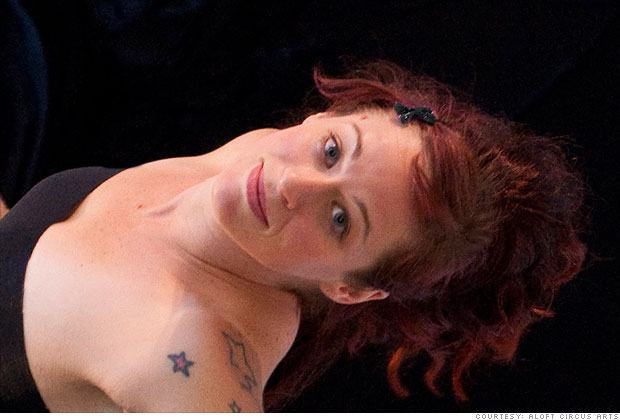 Owner(s): Shayna Swanson
"Earthbound" is one word that rarely applies to Shayna Swanson. The owner of Aloft Circus Arts spends most of her time in the air -- suspended from ropes, hanging from strips of silk or swinging on a bar. Swanson is a trapeze artist. And should you wish to get your Cirque on, she runs a school where you can learn to be an aerial artist, too.
The Aloft Loft in Chicago is a teaching school for the aerial and circus arts. Students can take classes in Aerial Silks and Rope, Tight Wire Walking, Acrobatics, Contortion and of course, Trapeze -- but not the Flying Trapeze you've seen in big circuses, where one flyer leaves the bar and gets caught by another flyers swinging nearby. "That's a roller coaster thrill," said Swanson.
"We teach Static Trapeze, which is less of an amusement park ride and more of an art form," she explained. Mind you, that art form takes place seven feet off the floor with only a mat and a spotter below. There's no net.
Swanson, a lifelong gymnast, had her eye set on becoming a choreographer. But after taking a class in aerial arts, she enrolled in England's famous Bristol Circus School (while there, she performed suspended from a bridge over the River Kent. Afterwards -- back home in Chicago -- she got a job with a local circus.
Looking for a more stable income, Swanson started her school in 2002 with $5,000 borrowed from a friend. She began teaching three classes a week herself with 15 students. Aloft now has a staff of 20. Its 200 students attend nine-week sessions, ranging from $225 to $309 per class.
The school has proven so popular it has had to relocate four times -- the latest move to an 8,000-square-foot facility. Swanson projects revenues to hit $300,000 this year.
Everyone over the age of 18 -- 16, if participating with a parent -- is welcome if they pass a doctor's physical. Students range from beginners to old pros looking to keep their skills up-to-date. Even phobias prove to be no impediment, as Swanson herself can attest. "I do this for a living and still have a fear of heights."