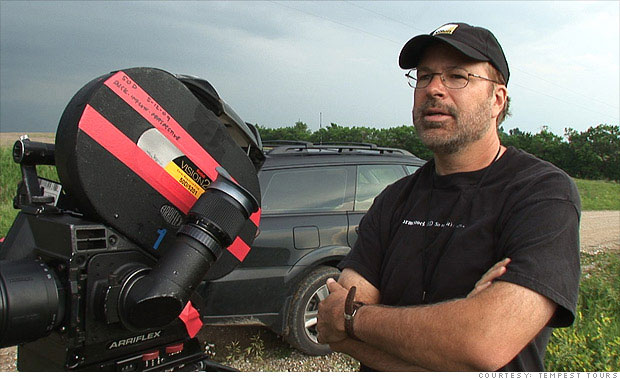 Owner(s): Martin Lisius
For anyone who saw the destruction in Joplin, Mo., last May, the thought of running towards a tornado as opposed to running from one seems downright deranged.Yet Martin Lisius' clients sign up eagerly to do just that. Lisius is CEO of Tempest Tours, Inc., and since 2000, the company has taken guests on trips to view the rampaging funnel clouds on the portions of the Great Plans known as Tornado Alley.
A storm chaser since 1987, Lisius grew up in a part of Texas famous for having more tornadoes than any other place in the world. Fascinated with extreme weather, Lisius even assembled a homemade weather station on the roof of his house as a kid.
He grew up to be a cinematographer who formed a company, StormStock.com that provides extreme weather footage to producers. He filmed his first 3D tornado this year.
Lisius bowed to friends' requests to accompany him on trips to see the wild weather by forming Tempest Tours. He started the company with one van, a laptop and $5,000 and projects $230,000 in revenues in 2012.
The company runs eight to nine tours each year from their bases in Oklahoma City, Arlington, Texas and Denver, Colorado with between 6 and 20 guests per tour. Each tour lasts between 4 and 10 days. Lodging is provided, and everyone gets a T-shirt.
The tour does not drive into the tornado or anywhere close enough to compromise safety. "We leave that to reality TV," he said. "We get close enough so our guests get great photos," he explained.
He can't guarantee each group will see a tornado. But Lisius does guarantee each tour will encounter severe weather -- be it lightning, wind, rain or hail. What you will not see are airborne cows as in the movie, "Twister," on which Lisius served as a consultant. "The dust and debris would obscure the view of flying livestock. But Hollywood is Hollywood."