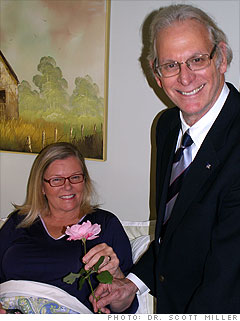 Location: Huntsville, Ala.
When Sarah Baldwin's husband Jack lost his executive-level position in November 2009, the couple learned very quickly how hard the job market can be on the 50-plus crowd. Needless to say, sleep didn't come very easily.
Baldwin was in search of a solution to her insomnia when she discovered a brand of pajamas made out of a unique material that neutralizes positive ions and all but guarantees restfulness.
She immediately fell in love with Goodnighties, but she also noticed that the company was in dire need of promotional assistance. After corresponding with the owners via LinkedIn, she and her husband were brought in as partners in February 2010 with an equity stake and rights to a percentage of total sales.
Baldwin has 25-plus years of corporate marketing and branding experience, but after a long hiatus to raise her children, she now faces the unfamiliar world of blogs, Twitter and Facebook. But the challenges keep her motivated and busy.
"Working with Goodnighties has proudly earned me an express MBA," she joked. "And, no, I will never have to worry about doing crossword puzzles in my golden years!"