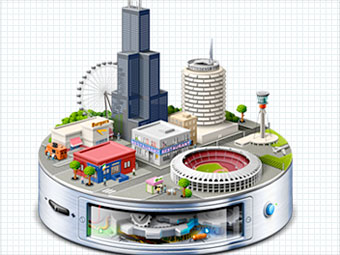 Ask the experts, and they'll tell you over and over: the future of social media rests within the data servers of location-based services like Facebook Places, Google Latitude, and Foursquare. And if visionaries like Foursquare founder Dennis Crowley are to be believed, "location" -- even more so than Facebook and Twitter -- will connect users and improve the way they interact with the real world.
In reality though, we spend more time talking about location-based services than actually using them. According to a Forrester Research study, only 4% of Americans check in with apps like Foursquare. Chalk part of that up to lack of public awareness, but arguably, another stumbling block is app integration. If you want restaurant reviews, you go to Yelp. If you want that virtual Gap coupon, you use Foursquare. While some of these apps are now beginning to "play nice," some analysts predict it'll be years, perhaps two or three, before service integration reaches a point where you walk down a street and multiple apps interact to provide a smooth, unified experience. Until then, expect rapid growth in the segment -- location apps could be responsible for as much as $12.7 billion in sales by 2014.
We cut through all the tech chatter to highlight the services to watch in the years to come -- when things really take off.
NEXT: The bigwigs
Last updated January 04 2011: 12:26 PM ET