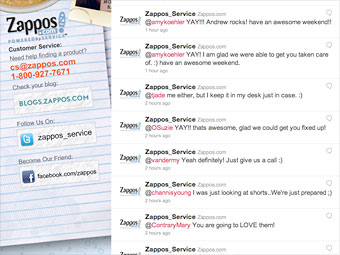 Objective: Change shipping address on recently placed order.
Twitter: Tweeted @Zappos_Service, and a prompt and cheerful reply pointed me to the customer service hotline.
Time: 16 minutes
Problem solved? No
Phone: After going through a quick menu, that among other things offered to tell me the joke of the day, I connected with Nikki, who successfully switched my address and made me a member of Zappos VIP for life -- a privilege that comes with free overnight shipping.
Time: 4 minutes
Problem solved? Yes
Website: Emailed a request at 3:37, and received a call from Laura by 3:38. After getting my new address, and wishing me a wonderful day twice, my problem was fixed and the conversation was over by 3:42.
Time: Less than 5 minutes
Problem solved? Yes
Verdict: Zappos is one of Twitter's brightest corporate stars, but the old fashioned telephone still wins when it comes to problem solving.
NEXT: Delta
Last updated February 11 2011: 3:21 PM ET