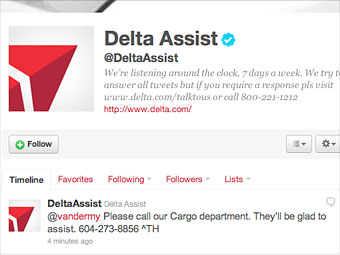 Objective: Put three golden retrievers on a plane from New York City to Vancouver.
Twitter: Tweeted @DeltaAssist at 4:10. Got an impressively swift response at 4:17 with the number of a Delta cargo contractor. Unfortunately the contractor didn't do rates or booking and passed me on to another cargo company, this one headquartered in Ontario. That company only dealt with flights outgoing from Canada, and wasn't sure if Delta flights out of Vancouver would have a cargo option at all. Eventually, I was directed to the Delta customer service hotline.
Time: About an hour
Problem solved? No
Phone: After dodging three questions about my SkyMiles account, I was connected to a real person. She was quickly able to pull up information related to bringing pets onboard (two golden retrievers can fly, not three) and offered to book my flight.
Time: Less than 6 minutes
Problem solved? Yes
Website: Sent request for information at 5:03 p.m. Received a rundown of the company's pet policies at 10:53 p.m.
Time: Almost six hours
Problem solved? Mostly
Verdict: Despite having a respected Twitter feed with more than 14 thousand followers, Delta's hotline was by far the fastest and most helpful avenue for customer service.
NEXT: Rubbermaid
Last updated February 11 2011: 3:21 PM ET