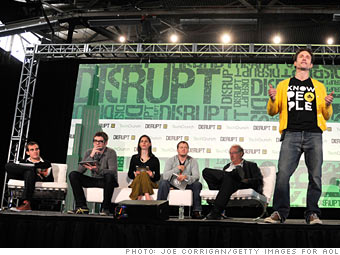 Sonar.me
Founders: Brett Martin
Headquarters: New York City
Founded: 2010
One of the crowd favorites at Disrupt was Sonar, an app that proved useful during the conference.
The free tool identifies your location and shows you which people in the room you have the most in common with. Users can check in on Foursquare using Sonar and scroll through profiles of people in the same location who share the most connections through Facebook and Twitter.
Creator Brett Martin wants to make networking easier.
"We already share so much of ourselves online," he said. "Why not use that info to connect with the person next to us?"
Many of the judges agreed. "I certainly think you're striking chord," Union Square Ventures' Fred Wilson said. Martin plans to make money by charging people to "promote" themselves to the top of the list at any venue.