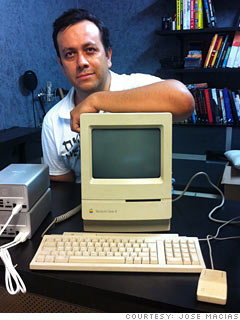 Name: José Macías
Profession: Graphic designer for political campaigns
Current town: Guadalajara, Mexico
Age: 43
I bought my first computer, a Mac Classic II, in 1991. I was 23 then, and my personal savings dropped to $0 after that purchase. Buying a computer -- or, I should say, an Apple computer -- was a pretty fancy thing to do back in those days, especially in Mexico.
All my geeky PC friends teased me, saying that I had spent all my money on a very expensive Nintendo. They saw little future in my investment.
But what really got me about the Mac was its game-like interface, the mouse and the "Think Different" ads. And it really was different. The Mac was the computer that all the others were trying to emulate -- very unsuccessfully.
And owning a Mac made me different. I was one of the first Mac owners in Guadalajara, and later, new Mac owners looked to me as an advisor. It even gave me a big advantage over competitors in the graphic design business. I've owned many Macs since then, which I use to keep my business up and running.
Those old Macs and other gadgets have come and gone, but I still keep my old Classic II. It reminds me of who I was, and how far I've come since then. When I'm feeling uncertain about something, it's there to remind me that risks exist to be taken ... and that sometimes, being different is very worthwhile.