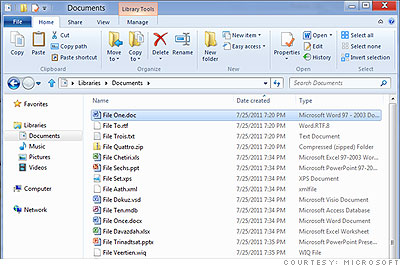 Microsoft this week offered a sneak peek into next year's release of Windows 8.
In a blog post, the software giant said Windows 8 is "about reimagining Windows" -- so Microsoft is rethinking Explorer, the file-navigation interface the company calls the "cornerstone of our product."
The primary change is an expanded "ribbon": the top section of the window that includes various command functions. A survey of anonymous user data sent to Microsoft showed that today's Windows Explorer users hardly ever use the ribbon.
Most commands are entered with a right-click, and 32% are entered with keyboard shortcuts (like "Ctrl-C" for copy). Just 11% are entered through the ribbon.
So what's Microsoft's solution? Jam in more.
It plans to pack around 200 commands into the Windows 8 ribbon. (The details are still being finalized, but "it will likely end up between 198 and 203 when we're done," the company wrote in its blog).
Microsoft hopes that will help Windows 8 in the tablet field: "While not primarily a touch interface, the ribbon also provides a much more reliable and usable touch-only interface than pull-down menus and context menus," it said.
Explorer has been the heart of Windows for more than 25 years: Microsoft calls it "one of the most venerable parts of Windows with a heritage you can trace back to the MS-DOS Executive in Windows 1.0!"
Here's a look at how Windows Explorer has evolved -- or failed to -- over the decades.