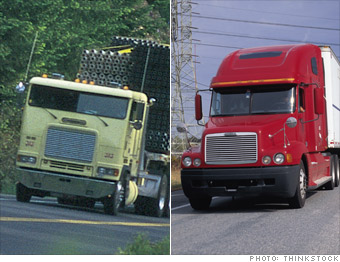 In the early 1970s President Nixon asked all federal agencies to help find solutions to the nation's energy crisis.
Around the same time, a NASA engineer working on the future space shuttle became and avid biker.
After being jostled by one too many back drafts from passing trucks while riding, the engineer realized something was not right.
"Those trucks were like shoe boxes moving down the highway," said NASA's Lockney.
So this NASA engineer, with the president's blessing, took his entire aerodynamics team to Edwards Air Force base in the California desert to develop a better design for these trucks. They gave the results to the trucking industry.
"A modern semi looks a little like the space shuttle," said Lockney. "That's no accident."