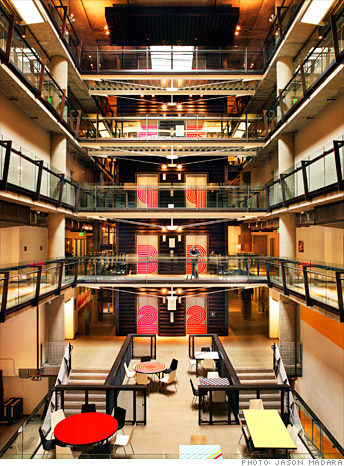 Zynga's new San Francisco headquarters feel like, well, a life-size version of one of the company's colorful, cartoonish social games. The lobby features a Western façade that echoes the look of FrontierVille, one of Zynga's virtual worlds. A "Zyngabago," a white 1970s Winnebago emblazoned with a giant "Z," is parked across from the receptionist's desk. In between sits a "time travel" tube, a tunnel of 20,000 programmable LED lights, and much of the building pulses with thumping music.
"We are a gaming company, and we are about play," says founder and CEO Mark Pincus. "It should be loud and raucous."
The cushy workplace has become de rigueur in Silicon Valley, home of Google's free food, massages, and lava lamps. But Zynga, the area's latest hot company, has ratcheted up both amenities and zaniness in its new, seven-story office in the SOMA neighborhood, which has room for 2,300. From The Well, a sports bar on the lower floor, to the Blue Bottle coffee station one level up, through to the Zen "tea garden" on one of the top floors, it's all designed in 1970s retro-chic with an overarching goal: to lure and retain the region's increasingly pampered engineers amid the fiercest talent wars the Bay Area has seen since the last bubble. The wellness center -- don't call it a gym -- includes a sports court and exercise equipment, as well as yoga, tai chi, and acupuncture rooms. And employees aren't the only ones getting spoiled: The roughly 100 dogs that come to work with their owners every day enjoy pet insurance, free dog food, and Zynga-issued dog tags so they don't get lost. After all, Zynga is named for Pincus's late American bulldog, Zinga. The new building's nickname? The Dog House, naturally.