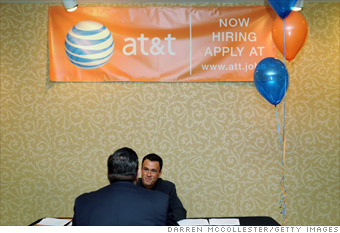 The claim: AT&T says that the merger would create "many thousands of indirect jobs," because the deal would allow for an expansion of the combined company's network infrastructure.
Additionally, AT&T said T-Mobile's redundant, non-management employees would be offered another position in the new company. It said it wouldn't fire any U.S-based call center employees of either carrier as a result of the merger, and added that it would bring 5,000 outsourced call center jobs back to the United States.
The response: The FCC said that even if AT&T made good on all its proposals, the merger would still result in a net loss of jobs -- both direct and indirect.
Internal AT&T documents show that the company plans on mass layoffs at both carriers, including almost the entirety of T-Mobile's customer service staff, according to the FCC's report. AT&T also noted that "jobs serving redundant functions would be eliminated to reduce costs."
The FCC said AT&T's proposals for current T-Mobile employees are disingenuous, because call center turnover is extraordinarily high, and AT&T is unlikely to replace those that leave. The regulator also noted that it's unlikely that those employees offered new jobs would be offered attractive positions for the same pay or hours. Many would be given only temporary jobs, and many would likely choose not to accept the new job, the FCC said.
AT&T has also said that it plans to spend far less capital as a result of the merger. That reduced investment is why the FCC concluded that the deal would lead to a "significant reduction of indirect jobs" than if the companies both spent capital on building out infrastructure separately as competitors.
The FCC noted that there's no historical precedent for a merger creating jobs. In fact, there were 70,000 employees at AT&T Mobility in 2002. Since then, AT&T merged with Cingular, Dobson and Centennial, and there are now 67,000 employees at AT&T Mobility.