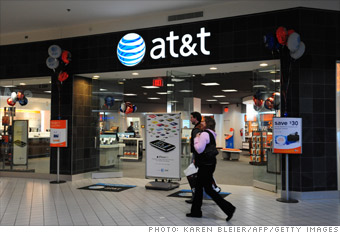 The claim: In its public statement about its merger proposal with T-Mobile, AT&T said prices would fall as a result of the companies combining. The combined company would have more capacity for customers' wireless needs, and could therefore charge lower prices, AT&T suggested.
AT&T also claimed that T-Mobile customers would be forever protected from price increases, because AT&T would agree to honor their current contracts for an unlimited time.
The response: The FCC said it in its staff report that its analysis suggests prices would instead rise if the merger were completed, since AT&T would eat the cheapest national carrier.
Eliminating T-Mobile's competitive price points would also give Verizon and Sprint incentive to raise prices, causing pain in the wallet for the majority of cell phone customers. The FCC called T-Mobile a "disruptive force" in the mobile marketplace that keeps competitors' prices in check.
The regulator also say that it's unlikely T-Mobile customers will remain on their current contracts forever. When they want a new phone, or if they want to upgrade their plan, they'd eventually have to switch. And since everyone else's plans would become more expensive, current T-Mobile customers would have to make the unhappy choice of sticking with old technology or paying a higher price to upgrade than they would have if the merger had never taken place.