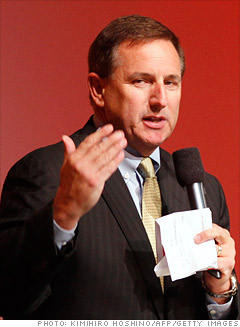 Company: Oracle
Cash compensation: $10 million
Stock and options: $68.4 million
Just a month after his unceremonious ouster as Hewlett-Packard CEO last year, Hurd landed the most lucrative job in the technology industry.
As Oracle co-president, Hurd took home a base salary this year of nearly $700,000 in addition to a $7.3 million cash bonus -- some spare pocket change after he fled HP with a $12.2 million golden parachute.
That severance package was supposed to be worth as much as $53 million, but in a settlement with HP over his decision to take the job at Oracle -- one of HP's direct rivals -- Hurd opted to drop all of his equity grants.
As a "thank you," Oracle awarded Hurd a $2 million "extraordinary supplemental cash bonus." In a regulatory filing, Oracle offered up this gem: "[Oracle] does not routinely approve such bonuses but determined that this bonus was appropriate in recognition of the significant contributions made by Mr. Hurd, including, among others, his settlement of the litigation brought by Hewlett-Packard Company against him, which would have been a significant distraction to Oracle's management."