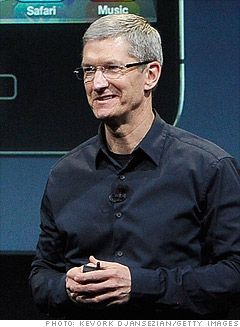 Company: Apple
Cash compensation: $6.7 million
Stock and options: $52.3 million
Apple's new CEO got a big fat bonus last year for running the day-to-day operations of the company while Steve Jobs was on medical leave two years ago.
In addition to his $800,000 salary and $900,000 bonus, Cook took home an additional $5 million bonus "in recognition of his outstanding performance" for stepping in for Jobs. He also received $52 million worth of Apple stock as a thank you, after receiving no stock compensation the year before.
He was a busy man while stepping in for the CEO, so Cook also took home $40,000 as compensation for accrued and unused vacation time.
Cook once again took over for Jobs early this year and became the company's permanent CEO in August. That scored him another windfall: A stock grant of 1 million shares. Valued at around $400 million, the grant will only pay out in full if Cook sticks with Apple for a decade.