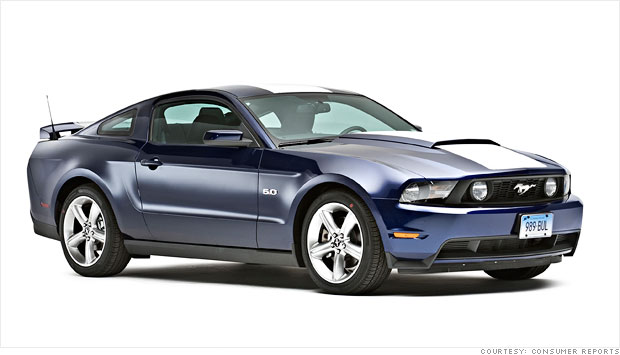 Price: $28,880 - $43,880
This is the second year the Mustang has earned the top spot among performance cars. Consumer Reports' car testers laud the "scorching acceleration" and rumbling sound of the Mustang GT's relatively fuel efficient V8 as well as the "punchy and refined" V6. The V8 got 22 miles per gallon, overall, in Consumer Reports testing while the V6 got 24. (Consumer Reports does its own fuel economy testing rather than relying on EPA ratings. The EPA rates the Mustang at 20 and 22 mpg, respectively.)
The Mustang also has agile handling and good ride quality, too, the magazine said.
In the auto industry, Consumer Reports magazine is regarded as the single most influential publication among car shoppers. The magazine buys all the vehicles it tests and it accepts no advertising in order to prevent any outside influence on its ratings.
To earn a Consumer Reports' "Top Pick" a vehicle must have the highest performance test scores while also exhibiting at least average reliability and good safety ratings from the National Highway Traffic Safety Administration and the Insurance Institute for Highway Safety.