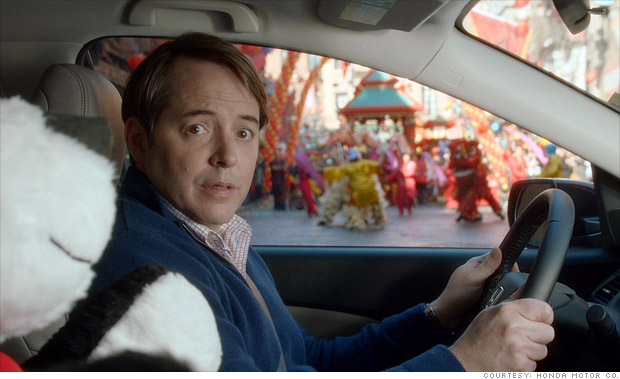 In Matthew Broderick's 1986 breakout film "Ferris Bueller's Day Off," the legendary teen took a vintage red Ferrari for a rebellious joy ride. This did not bode well for the Ferrari, but it did wonders for Broderick's career.
Cut to 26 years later. In a new Super Bowl ad from Honda, Broderick is an aging movie star who could probably afford to buy his own Ferrari. But he inexplicably tools about town in a CR-V sports utility vehicle crossover.

And instead of a pretty girlfriend riding shotgun, he's got a giant stuffed panda in the passenger seat. Is this the Ferris we once knew? Has it come to this?

By Aaron Smith and James O'Toole
@CNNMoney
- Last updated February 03 2012: 6:47 PM ET