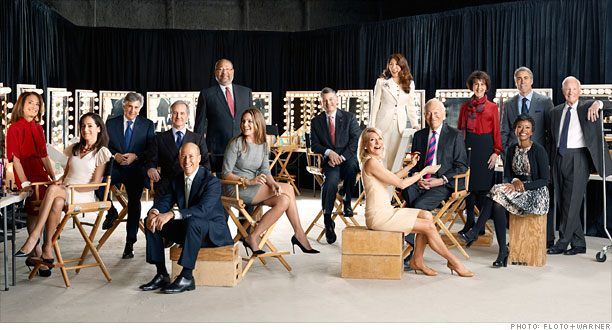 Feb. 29, 2012, New York City:
If there's a luxury beauty brand that has struck a chord with women, chances are pretty good Estée Lauder owns it. The cosmetics giant (
No. 290
) has stayed youthful over the years by assembling a portfolio of cult labels like La Mer, Bobbi Brown, MAC, Aveda, Bumble and Bumble, and Jo Malone. Though 62% of revenue came from outside the U.S. last year, North American sales increased 9% -- the region's highest growth in a decade.
Left to right: Rose Marie Bravo, retail and marketing consultant; Jane Lauder, global president and general manager, Origins and Ojon; Paul J. Fribourg, chairman and CEO, Continental Grain; Fabrizio Freda, president and CEO, Estée Lauder Cos.; Barry S. Sternlicht, chairman and CEO, Starwood Capital Group; Richard D. Parsons, senior adviser, Providence Equity Partners; Aerin Lauder, chairman and creative director, Aerin; style and image director, Estée Lauder brand; William P. Lauder, executive chairman, Estée Lauder Cos.; Lynn Forester de Rothschild, CEO, E.L. Rothschild; Wei Sun Christianson, co-CEO, Asia Pacific, and CEO, China, Morgan Stanley; Leonard A. Lauder, chairman emeritus, Estée Lauder Cos.; Ambassador Charlene Barshefsky, senior international partner, WilmerHale; Mellody Hobson, president, Ariel Investments; Richard F. Zannino, managing director, CCMP Capital Advisors; Irvine O. Hockaday Jr., former president and CEO, Hallmark Cards