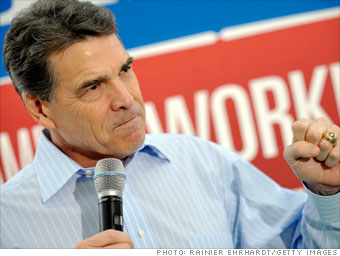 Total net worth: $1 to $2.5 million
Rick Perry is not exactly poor. But it's all relative. His assets place him at the back of the pack of 2012 candidates.
The governor -- who's still on the job -- collects both a salary and pension from the state of Texas. The salary is $132,995 a year, and he brings in a monthly annuity of $7,698.
In August, Perry revoked his blind trust, giving a look into his portfolio. The candidate is invested in a wide range of companies, including PepsiCo, Procter & Gamble, Chevron, Cisco and Microsoft.