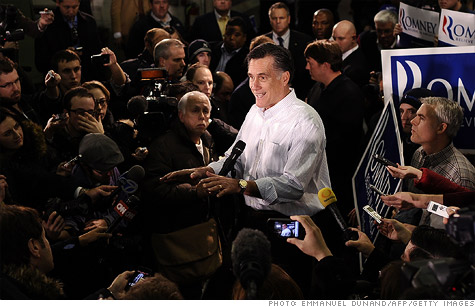 Republicans are attacking Mitt Romney's record at Bain Capital.
NEW YORK (CNNMoney) -- Is private equity an acceptable form of capitalism?
That's the curious debate that has broken out within the Republican Party as primary frontrunner and former Bain Capital executive Mitt Romney creeps closer to a presumptive victory in New Hampshire.
What Romney did at Bain Capital was use leverage to acquire companies, improve them, and sell them at a profit. Along the way, several of those companies failed, and some workers lost their jobs.
At the same time, some of the companies Bain Capital invested in did quite well, and Romney helped create millions in profits.
But Romney's rivals have taken issue with this specialized, rough-and-tumble brand of investment.
"There is something inherently wrong when getting rich off failure and sticking it to someone else is how you do your business," Rick Perry said Monday in South Carolina. "And I happen to think that is indefensible."
Newt Gingrich has issued his own critique of Romney's private equity past, and a super PAC that supports the former house speaker is readying a 28-minute video called "King of Bain."
"Mitt Romney was not a capitalist during his reign at Bain," the video's website says. "He was a predatory corporate raider."
It's not a surprise that Romney's record at Bain is coming under attack. But it's happening sooner than expected, and coming from Republicans.
"I can't understand why Republicans would run against a Republican on the basis that he created jobs," former Sen. Judd Gregg, a Romney backer, told CNN on Tuesday. "I think in this case Romney is on the right side of the issue."
Romney spokeswoman Andrea Saul said Gingrich and Perry "have resorted to desperate attacks on a subject they don't understand."
"We expect attacks on free enterprise from President Obama and his allies on the left -- not from so-called 'fiscal conservatives,' " she said.
Outside groups are pushing back as well. Club for Growth, a conservative political action group, said the attacks are "just wrong" and "beyond the pale."
"Newt Gingrich's attacks on Mitt Romney's record at Bain Capital are disgusting," Club for Growth President Chris Chocola said Monday in a statement. "Newt Gingrich should stop his attacks on free markets and apologize to Governor Romney for them."
The lobbying group that represents private equity firms is also on edge.
"There is a lot of misinformation being spread, purely for political purposes and on both sides of the aisle, as it pertains to private equity," Steve Judge, the interim head of the Private Equity Growth Capital Council, said in a statement.
Ken Spain, a former Republican strategist who now works for PEGCC, said that the industry will be mounting a defense.
"Going forward we plan to aggressively defend the industry against any mischaracterizations regardless of the political affiliation," Spain said in a statement.
Private equity has been, in some respects, under the microscope in recent months.
Democrats engaged in drawn-out budget negotiations with Republicans repeatedly targeted private equity firm employees for a tax increase, but were rebuffed.
Partners at private equity firms currently pay a reduced tax rate on profits -- 15% instead of the standard 35% rate on other income.
In many ways, an internal debate over the merits of private equity and the definition of capitalism is something Republicans wanted to avoid in an election year expected to focus on the economy and income inequality.
Some candidates are sticking to the party line.
Rick Santorum, the former senator from Pennsylvania, declined to criticize Romney's tenure at Bain when given the opportunity, according to the Washington Post.
"I'm not making it a liability," Santorum said. "I believe in the private sector."
And Ron Paul, in a further fracturing of the GOP field, defended Romney.
"They are either just demagoguing, or they don't have the vaguest idea of how the market works," Paul said on Tuesday.