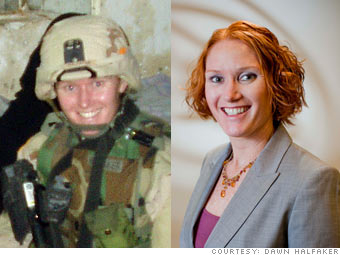 Then: Army captain in Iraq, 2004


Now: CEO, Halfaker & Associates
Dawn Halfaker, a former captain with the military police, didn't plan on leaving the Army. "I loved my job in the military," she said. "I really didn't have any future plans of getting out."
In 2004 she was training cops in Iraq, but that came to an end when she was ambushed on patrol and lost her arm.
After a year of recovery she was medically retired. "I just felt this huge void," she said.
So in 2006 she channeled her Army experience into creating Halfaker & Associates in Arlington, Va., a consultancy for businesses with military contracts. Nearly half of her 170 employees are veterans, and 10% of them are wounded warriors. "I know what it's like to get wounded and have your career taken away from you," she said. "So I want to make sure my company offers opportunities to other warriors."