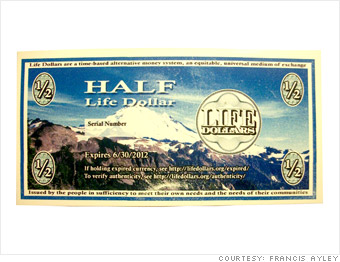 Location: Bellingham and Seattle, Wash.
Started: 2004
Life Dollars aren't just meant to act as a supplemental currency for a small community, they're meant to replace U.S. dollars altogether, said Francis Ayley, who founded the currency in 2004.
In the past year, Life Dollars have grown in popularity. "The economic recession is hitting people hard, so they are more willing to try alternatives that offer hope and possible solutions," he said.
Membership, which mainly drew from the Bellingham, Wash. area, had remained around 250 to 350 for several years. But in the past couple years, it has doubled to more than 700. The currency is now even used in Seattle, where it has gained 75 new members within the past six months.
Almost all of the transactions occur online. Members have online accounts where they can transfer money directly to other members and businesses. Some paper notes have been introduced, but most of the currency is electronic to prevent forgery.
The Life Dollar is valued at between 10 and 12 U.S. Dollars, fluctuating based on the local hourly living wage in the community.
Overall, users have exchanged more than $1 million worth of goods and services electronically, said Ayley.